Adventurer Kings - Next games status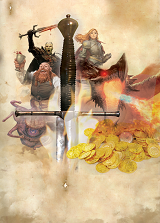 Here is the current enrollment status for the various Adventurer Kings variants.
(last update: 2023-08-26T08:59:15+00:00 )
For a new game to start, the following conditions must be met:
For the variants with a maximum of 12 players (Standard, Europe), there must be 2 players for each standard alignement, and a maximum of 1 Divine King and 1 Undead King.
If there is no Divine or Undead King, then they can be replaced by a Good or Evil King respectively, or by a Neutral King.
For variants with 20 or more players (Super, Earth), there must be an equal number of players for each alignment, and a maximum of 1 Divine King and 1 Undead King.
A player can have only one position waiting for a given variant.
Priority for playing an alignment is given to the player whose enrollment is the oldest.
Notes on special alignments:
Unless otherwise specified, a choice of Divine or Undead alignment may be modified to Good or Evil respectively.
If enough enrollments have been received for Good and Evil for a given variant, they will be taken into account before any demoted Divine or Undead.
Notes on Europe and Earth variants:
Positions are given in the order the enrollments are received.
Alignements are then taken into account to see if a position is still available or not.
Variant
Alignment
Number of players
Standard
Divine
1 / 1
Good
3 / 2
Druidic
2 / 2
Neutral
4 / 2
Pagan
2 / 2
Evil
2 / 2
Undead
4 / 1
Super AK
Divine
1 / 1
Good
3 / 4
Druidic
0 / 4
Neutral
3 / 4
Pagan
2 / 4
Evil
1 / 4
Undead
2 / 1
AK Earth
Divine
0 / 1
Good
4 / 4
Druidic
3 / 4
Neutral
4 / 4
Pagan
4 / 4
Evil
3 / 4
Undead
1 / 1
positions:
Rome
1
Carthage
1
Persia
1
India
1
China
1
Aztecs
0
Incas
1
Rus Vikings
1
Zulus
1
Egypt
1
Huns
1
Mongols
1
Manchus
0
Polynesia
1
Amazons
1
Norse Explorers
1
American Indians
1
Hudson Bay Company
0
Eskimos
1
Japan
1
Dutch East India Company
1
Atlantis
1
AK Europe
Divine
1 / 1
Good
2 / 2
Druidic
2 / 2
Neutral
2 / 2
Pagan
2 / 2
Evil
2 / 2
Undead
1 / 1
positions :
Caliphate of Cordoba
1
Normandy
1
England
1
Germany
1
Papal States
1
Kingdom of Magyars
1
Byzantine Empire
1
Caliphate of Baghdad
1
Mongol Khanate of the Golden Horde
1
Northern Seljuk Turks
1
North Russia (Novgorod)
1
South Russia (Kiev)
1
Copyright © R.Danard 1986-2023